OBCSCURE GAME DAY!!!
AAAAAAAAAAAAAAAAAAANNNNNND we have another obscure game day! Aren't you all lucky! I say today we move away from the handhelds and go back to the console! Keeping in my collection (or rather was a part of my collection till an unfortunate accident) We bring in the legendary and campy FPS of old,
"Timesplitters: Future Perfect!"
An awesome game for the Gamecube/Xbox/PS2! Being the 3rd in the Timesplitters series, it does pull from the previous games but you may enjoy this without playing the previous titles (Timesplitters 1 is not very good and Timesplitters 2 is good but has less character than the 3rd one.)
The story is rich, wonderful and hilarious! Following Sgt. Cortez as he returns from space with the time crytals (continuing TS2) he comes back to the marine base and is ordered to into the past to attempt to stop the evil time traveling aliens "timesplitters." Going through many time periods varying from 1942 to even 2401! Teaming up with many diverse characters that each have their own distinct and awesome personalities as well as top-notch voice work! You travel through time back and forth trying to find the source of the timesplitters and if they are actually aliens or something more…. *AHEM* no spoilers!  Being in many different time periods allows for a large and varying arsenal that ranges from your standard pistols and machineguns to harpoon guns and bricks to even futuristic weapons like the MAG-charger and time disruptor grenades! All these weapons and even more multiplayer exclusive weapons are available in the MASSIVE multiplayer mode!
How large is the multiplayer? First, it has 12 multiplayer modes to choose from, 15 maps to choose from (and a extensive mapmaker with HUGE potential and possibilities all left to your imagination! Even better than Halo's forge mode,) and 150 selectable characters… YEAH 150 CHARACTERS! That's how timesplitters rolls! Each of those 150 are so goddamn unique that I can't even list all the humans, zombies, robots, mythical creatures, soldiers, monkeys,  and other…. things? (Gingerbread Man, Snowman, The Shoal, Cypriss, etc……) And each even shows a bit of personality when picked! :D The mapmaker is the one that truly amazes (seeing how far ahead of its time it was.) Allowing for complete construction from the ground up (including the ground itself!) Throw in online play and you will never be bored!
Even when not in multiplayer you can play the vast variety of the games multiplayer in "Arcade mode." A mode that pits you against the computer in interesting and unique circumstances as well as changing the modes (virus, leech, capture the bag, etc…) and allowing you to unlock more things like characters and cheats (modifiers!)
I could talk about multiplayer all day but we must move on! I will move onto the music! Being a wonderful combination of epic orchestrated tracks, catchy synthesized tracks, dark horror tracks, retro tracks that fit into the time period or map and even the immortal music that returns from the classic games! Oh and I simply must include "Like a Monkey!"
Why? BECAUSE I LIKE IT!
http://www.youtube.com/watch?v=fcT0SlivVQw&feature=related
Epic multiplayer music when everyone is a monkey (or zombie/robot/ninja monkey.)
I can't say anything bad about this game at all! IT GOES ONTO MY LIST OF OFFICIAL PERFECT GAMES!!! (No pun intended, it really is perfect.)
There are rumors of a "Timesplitters 4" in the works but only time will tell.
Ah yes and now we move onto favorites! (My favorite part hurr hurr hurr.)
There are so many damn characters I think I'll split it by mode!
Story mode favorite? R-110 all the way!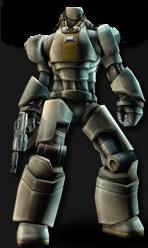 Being a robotic enemy that Cortez jumps onto like a madman and reprograms, R-110 has a standard emotionless personality UNTIL… The 2nd level that he is your partner he overrides the security by going into the system himself but is affected by a virus. This virus gives him a gung-ho "YIPPIE KAY YAY MOTHERFUCKERS!" attitude that simply makes him the best!
In multiplayer? Lol I love using "The Shoal!"
Yeah you see that right! The Shoal is a telepathic whale that controls fish and a dolphin to do his bidding (outside of water by some miracle no less.) The pun he makes when you pick him seals the deal in my book! "Tonight, you sleep with the fishes…"
My favorite map is VR of course! Virtual Reality!
Mapmaker has a tile set of VR as well. The music meant for here is decent but in this game you can pick any music you want….. "Like a monkey, like a monkey, like a monkey…"
Yeah this is a perfect game. Yeah you should go buy it. And yes I need to find another copy. BUT GODDAMNIT I LOVE THIS GAME!
That does it for OGD! One of the few perfect games has been shown and next time I think I may move away from my personal collection, but we shall see! Remember to drop any obscure games you think need some love in my ask box and mention its for OGD!
Have an awesome day everyone! Time to split!